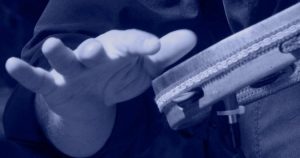 THE LAMPARO COMPANY
Founded in 2003 by Manu Théron and Nora Mauriaucourt, La Compagnie du Lamparo, a National Company based in Marseille, is an association which brings musicians together and initiates artistic projects dedicated to research and creation in keeping with Occitan heritages and cultures in Marseille's area.
Collection of sound documents, creations or transmission of popular knowledge, the territories explored by the Lamparo mark the possible ways that the Occitan culture and language maintain, in a sometimes unexpected manner, with their sisters from the Mediterranean basin, the ones that have been irrigating Marseille since its foundation.
Rubbing very diverse musical aesthetics with a singular poetic approach, the Lamparo sets its way toward a reappropriation of mediterranean popular musical traditions with an ambition of rediscovery and interrogation of its region's immaterial heritage.
Far from looking for the perpetuation of a tradition, these activities aim – more modestly but no less ambitiously – at bringing into contact the audiences with the most volatile as well as the most exciting aspects of history – unwritten but registered – by the melody of a language, in every corner of its territory and in every perspective of its horizon.