DE LA CRAU
From the industrial hell of Fos-sur-Mer to the Arles' bank of the Rhône, the CRAU – Western Europe's last steppe – paves the way for reality. This ancient, abandoned sea has rolled and is still rolling along heaps of loose stones in the fury of the wind, and a car that would cross right through this little desert would drive straight for dozens of miles, through landscapes that Hopper or Walker Evans would have effortlessly made american.
It's in the depths of this sea, lined with factories, dozing in the bareness of its vast spreading, that the three musicians of DE LA CRAU have imagined the soundtrack of their voyage. They have started from a sky-ripping singing, to which the double bass, the percussions and the ecstatic raging of the mandola answer in power and in poetry.
It's in this post industrial stretch that Lou Reed finally bumps into Matar Muhammad, and their encounter can be imagined only there, under the pen of SAMUEL KARPIENIA, inspired like never before, taken at his peak by MANU REYMOND's dark and vigorous bow and THOMAS LIPPENS's colorful drum set. They are presently exploring a furrow dug out twenty years ago not far from the factories, like a wound they would go on treating forever, and that the singing and the mandola would only succeed in soothing in the harsh magnitude of these horizons.
PERSONNEL :
Sam Karpienia begins provençal singing in Manu Theron's group Gacha Empega, he then founds Dupain from 1999 to 2016 in parallel with the group Forabandit, mixing singing from Provence and Anatolia.
Manu Reymond has played with the group PoumTchac and has collaborated to various musical projects (BabX, Nathalia M King, bal folk…)
Thomas Lippens has studied the tambourine in Naples and has integrated this instrument in different traditional music projects in South of France, but also within the Kreiz Breiz Académie in Brittany, with Erik Marchand.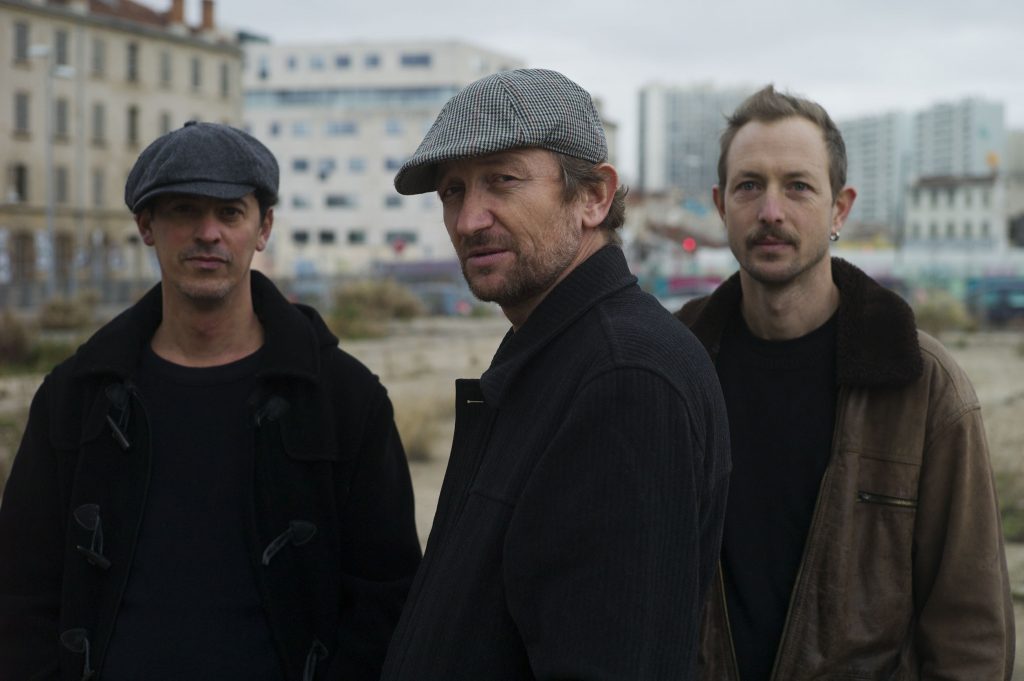 Photo by : Yohanne Lamoulère